Using Filters
If no filter enabled, Capsa will capture and analyze all the packets transmitting through your adapter. Thus a filter is an important way to filter out those packets you are not interested in.
A filter enabled, the program will capture packets matching with the filter's criteria but drop those failed. You are able to save you time on finding useful data of network anomalies or attacks among countless items. Once a filter created, you can use them in every project.
You can open the Filter dialog box through the following: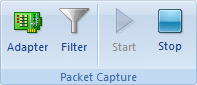 The Filter dialog box appears as follows: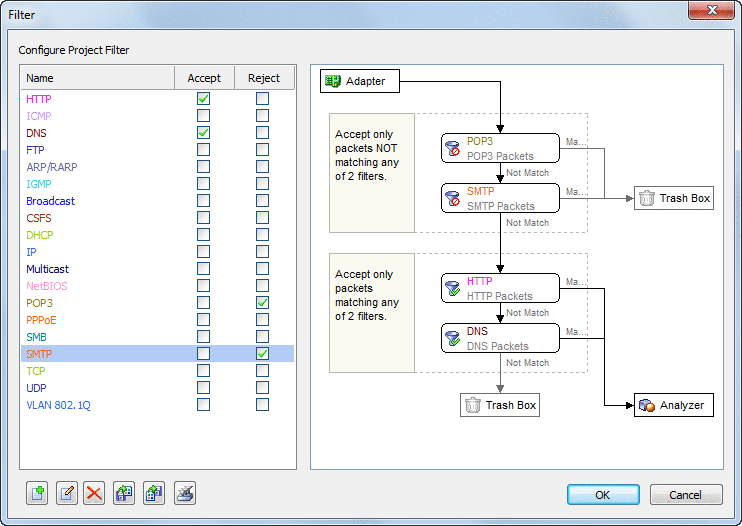 The Filter dialog box is divided into three parts:
---
Filter list
Filter list shows all filters including filters created by you. There are two checkboxes in every filter item. If you need to accept a kind of packets, check Accept. Otherwise, check Reject. You may also check multiple boxes to define packets capturing range.
Double-click any filter item in the list to open the Filter dialog box to edit the filter. In the Filter dialog box, you may change its settings in Simple Filter tab and Advanced Filter tab.
---
Filter flow-chart
The Filter flow-chart refreshes when you make any change on the left pane and shows how the packets are processed when Capsa captures them. Packets match Accept condition will be accepted and passed on to the next stage, packets match Reject condition will be dropped.
---
Buttons
You can find the following buttons on the bottom of this dialog box. All buttons are described below:
Add: Click to add a new filter.
Modify: Click to open the Packet Filter dialog box to edit the selected filter's conditions.
Delete: Click to delete the selected filter.
Import...: Click to reload saved filters in an *.cscpfit file into the project. When a filter file imported, all the filters in the list will be replaced.
Export...: Click to save all the filters in the list to an *.cscpfit file.
Reset Default: Click to reset the filter list. All the filters you created will be lost and the filters modified be reset as well.