Colasoft Ping Tool
Colasoft Ping Tool is a powerful graphic ping tool, supports to ping multiple IP addresses at the same time, and compares response time in a graphic chart.
To start Colasoft Ping Tool, do one of the followings:
Click the Ping icon in Tools tab of the Ribbon.
Choose Start > All Programs > Colasoft Capsa 7 > Capsa 7.0 Toolset > Ping Tool.
Choose Start > Run, enter "cping" and click OK.
The Colasoft Ping Tool window appears: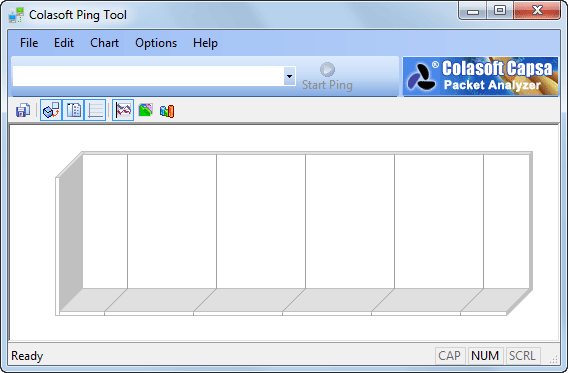 Colasoft Capsa is very intelligent to let you ping either one single IP address (domain name) or multiple IP addresses (domain names). Enter IP addresses or domain names (multiple items are separated by comma), click Start Ping to start.
Ping a single domain name: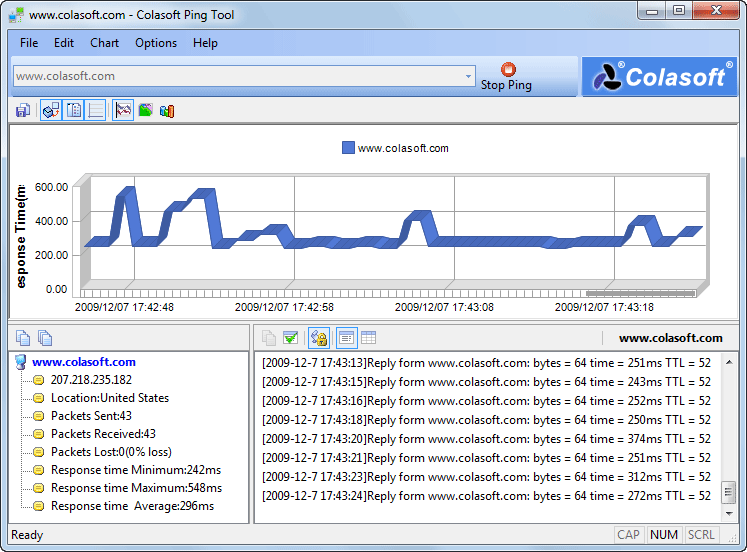 Ping multiple domain names:
By default, Colasoft Ping Tool will keep pinging the target hosts until you click Stop Ping to make it stop.
You can view historical charts and save the charts to a *.bmp format file. With this tool, users can ping the IP addresses of captured packets in Colasoft Capsa conveniently, including resource IP, destination IP or both of them.

For a clear view, please move your mouse to the graph. Colasoft Ping tool will highlight the specific node and node border upon it. An annotation automatically pops up which contains the domain name and response time. The response time in the annotation will be a range of time when your mouse cursor puts on the grid, while it will be a time if your mouse cursor puts on the grid line.