Download a Free Trial of Colasoft Packet Sniffer
Colasoft Capsa is an all-in-one yet easy-to-use Network Analyzer (Packet Sniffer) software for network activity monitoring, performance analysis, security enhancement, and issue troubleshooting. Take advantage of this packet sniffer software and the benefits it offers:
Real-time Packet Capturing
Traffic and Bandwidth Analysis
Advanced Protocol Analysis
Generate Quick Reports
Quick Drilldown Analysis
Intuitive Network Visualization
Automatic Issue Diagnosis
In-depth Packet Decoding
Monitor web browsing, email, chatting...
Visible Advanced Filters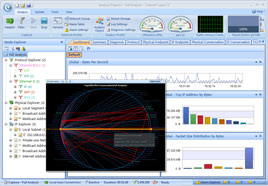 "Capsa Enterprise is an enormous, well- engineered, technical and highly professional product that provides almost everything you could want for network and protocol analysis"

"Wherever and whenever a networking issue arises I am always able to have my Colasoft Capsa on-hand to diagnose, and resolve, complex issues."

Copyright © 2001 - 2010 Colasoft. All rights reserved.