Join us in the effort to develop a better Capsa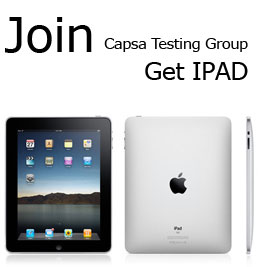 for WiFi by enrolling to Capsa Testing Group. You will have the chance to make a difference and get your needs implemented into the product.
Based on your effort and the value of the test report, you will be rewarded with:
Top ten users will get Capsa for WiFi free license and IPAD (16GB) , eligible to become core testing group member who will be accessible to all Colasoft products.
Top 20 users will get 50% discount for any Colasoft products plus gifts.
Top 50 users will get 30% discount for any Colasoft products plus gifts.
Download test report here and submit it to


PDF Format
|

Word Format
How to join in
Step1, Install and test Capsa for WiFi, following the guidelines in test report.
Step2, Fill in and submit the test report before the end of March, 2011.


Why become a member
Reasons and Benefits:
Eligible to use and test all Colasoft software for free.
Privilege for technical support.
Increase your professional knowledge and help Colasoft to develop awareness of industry's best practices in network analysis software testing.
Share your Capsa experience with Colasoft and build up your reputation in Capsa forum.
Receive discounts to Colasoft products.
Get published.
There are many reasons to become a member and the above are just a few examples of why you need to be a part of Capsa Testing Group. As a group member, you will be able to create valuable industry content and share it with the community. You will build a reputation for others to see by getting involved in discussions, attending webinars, commenting on other professional's submissions, and your content will receive priority consideration for our publications including, e-newsletters, magazine.
More Reasons to Join…
You believe there is something better for your professional aspirations than only being part of an online social network group. Membership gives you access to a repository of white papers, focus books, metric guides, benchmarking studies, annual salary & practices report, educational webinars, eSeminars, e-newsletters, Software Test & Quality Assurance magazine, and access to Crews - a true global software testing community.
You are looking for opportunities to be at the center of influence such as publishing an article, speaking at conferences and networking with industry leaders.
You are looking for a group that has your professional interests at the forefront and provides you the resources to enhance your career.
You believe that software testing and quality assurance is important enough to have an industry association framework to provide the resources you need as a professional.
You believe your career and its future is worth the investment.
The benefits will grow as the membership grows. We are a true association and believe the future of this organization will be our ability to re-invest in our community. We are committed to the success of every network analysis software test and quality assurance professional.