Colasoft MAC Scanner
Colasoft MAC Scanner is a scan tool used for scanning IP addresses and MAC addresses in a local network. It sends ARP queries to specified subnet, and listens to the ARP responses to get IP addresses and MAC addresses, very fast scanning, you can also change the number of scanning thread to get better efficiency.

There are two useful new features added.
Database: lets you save your scan result here for later IP address and MAC address comparison.
Add to Name Table With: allows you add IP address, MAC address or both to Name Table directly.
To start Colasoft MAC Scanner, do one of the followings:
Choose Tools tab of the Ribbon, click MAC Scanner icon in the Tools group (figure below).
Choose Start > All Programs > Colasoft Capsa 7 > Capsa 7.0 Toolset > MAC Scanner.
Choose Start > Run, enter "cmac" and click OK.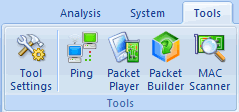 The Colasoft MAC Scanner appears.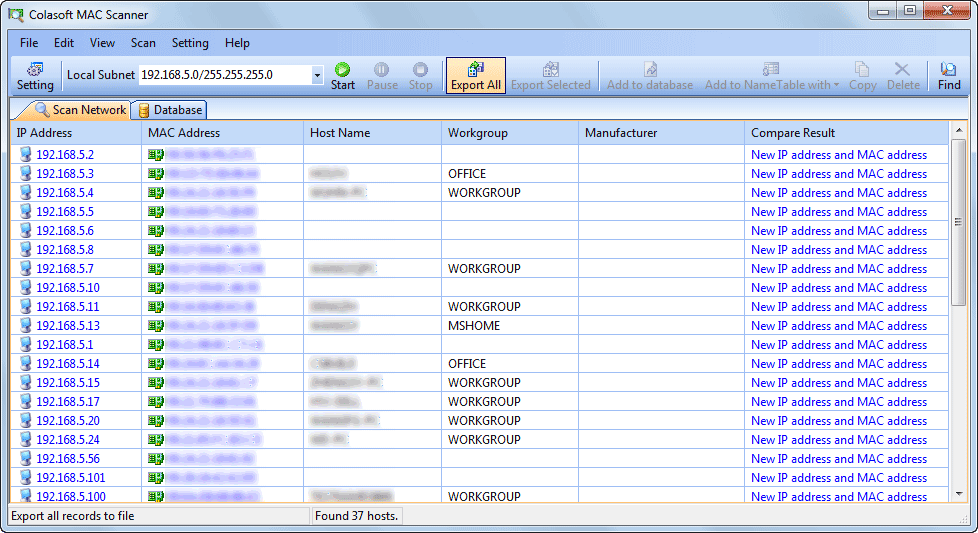 Colasoft MAC Scanner contains the following components:
Menu
Contains all the items on toolbar, commands to control the window and help.
Toolbar
Contains shortcuts of the most common used commands. And allows you to customize.
Scan Network View
Scan Network View will display the scanned results, including IP address, MAC address, Host Name and Manufacture in the list. It will group all IP addresses according to MAC address if a MAC address configured multiple IP addresses. The scanned results can be exported into .txt file for future reference.
Database View
Database View saves your scan result to database, which is used by Scan Network View to inform you the discrepancies, if any, when you execute another scann later on.