nChronos
Network Forensic Analysis Application
Capsa
Real-time portable network analyzer
Cyber Attack Prevention
24x7 monitoring of All Network Traffic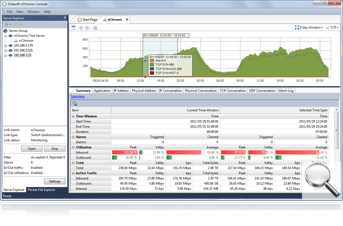 Key Features:
• Graphically display network real-time traffic
• Troubleshoot historical network issues as if in real-time
• Monitor & Alert on network anomalies
• Monitor the entire network from one remote platform
• Manage distributed networks from one location
• Baseline network and application performance
The Colasoft nChronos is a Network Forensic Analysis Application records all of your network traffic, 24 x 7 365 days a year alerting you of suspicious activity.
It's like having a DVR for your data network. Simply dial back the time and watch the historical traffic of your network from last week as if in "real-time".
Colasoft nChronos makes it possible to troubleshoot intermittent and historical network issues by rewinding and zooming in to any time periods in the past. In addition to troubleshooting network issues, nChronos can be also used to evaluate and benchmark long-term network performance. nChronos can even monitor the packet data and trigger an alarm when a network anomaly is detected alerting the network administrator.
Some of Our Customers: