nChronos
Network Forensic Analysis Application
Capsa
Real-time portable network analyzer
Cyber Attack Prevention
24x7 monitoring of All Network Traffic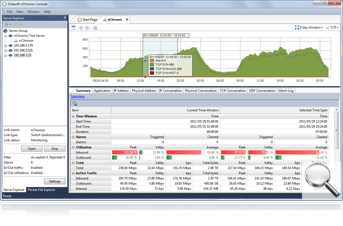 Key Features:
• Intuitive GUI with real-time network traffic display
• Analyze and Troubleshoot historical network data as
if in real-time
• Monitors & Alerts user of network anomalies
• Monitor the entire network from one remote platform
• Manage distributed networks from one location
• Baseline network and application performance
Colasoft nChronos utilizes an intuitive interface, while performing as a robust Network Forensic Analysis Application, to record all network traffic, 24/7, 365 days a year alerting you of suspicious activity.
It's like having a DVR for Network Data. Simply dial back the time and watch historical traffic of your network from last week as if in "real-time".
When trying to isolate and replicate intermittent network anomalies, don't waste time and money trying to be in the right place at the right time. Colasoft nChronos makes it possible to troubleshoot intermittent and historical network issues by rewinding and zooming in on any user defined time periods in the past. As a multi-function Network Analysis application, nChronos can also be used to evaluate and benchmark long-term network performance. You can even configure nChronos to monitor network packet data and notify the network administrator of network anomalies that exceed or fall outside of preset parameters.
Some of Our Customers: