Document Your Network - Capsa Log View & Output
As a networking manager, it is very important to document network log. By analyzing http log files, you will be able to see if your website blocking strategy is successfully set up; if there are any strange IPs in your network system. Colasoft Capsa enables you to do so with Log View and Log Output features when you are process network analysis.
Log View
At the Log view, users can view network activities log. Colasoft Capsa provides various kinds of log, such as Global Log, DNS Log, Email Log, FTP Log, HTTP Log, VoIP Call Log, and VoIP Signaling Log, for users to monitor.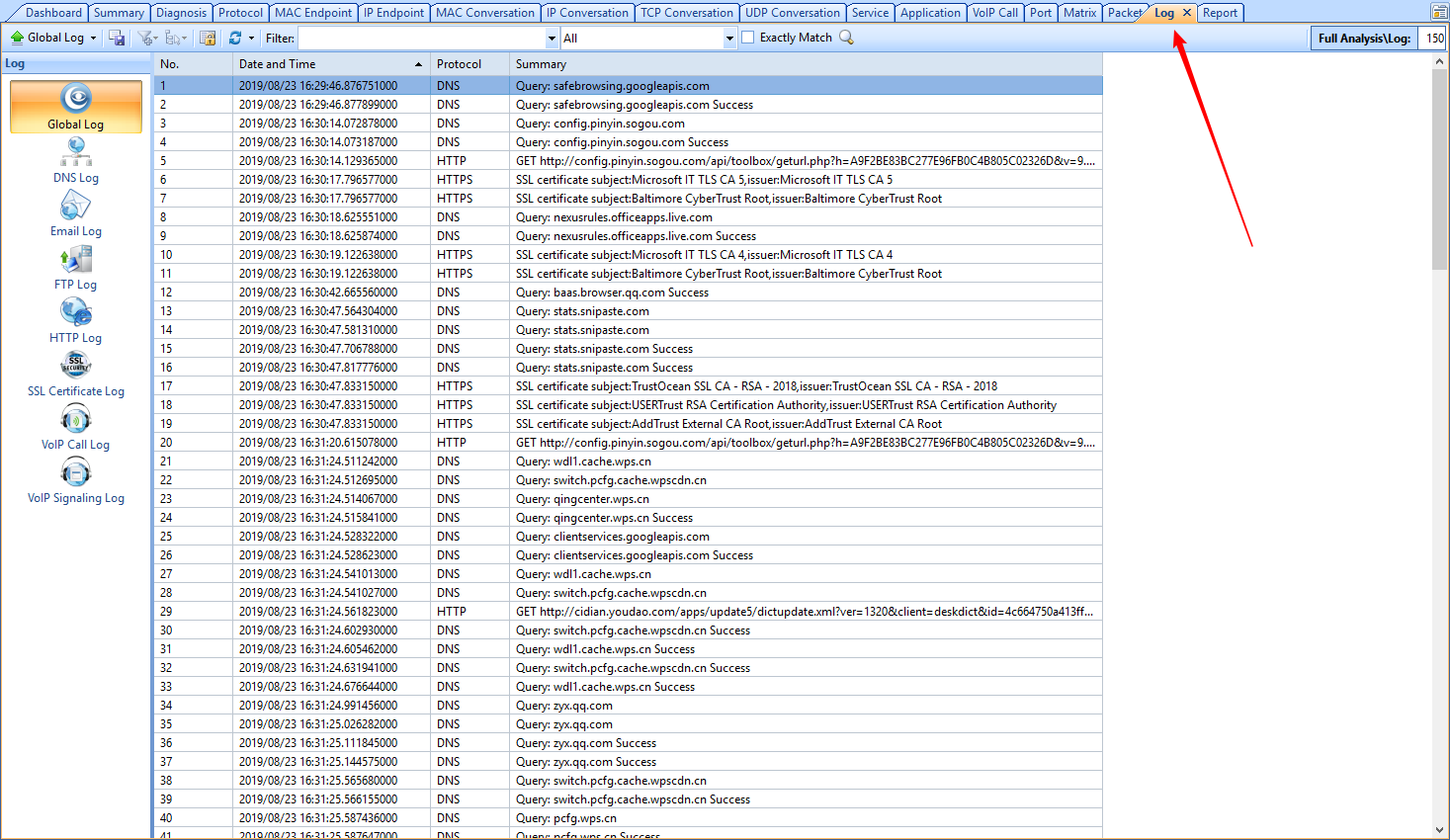 Colasoft Capsa also allows users to choose what kinds of log to show on the Log view and the buffer size of the log files. By default, all kinds of log are selected, and the log buffer size is 2MB, which can contain around 2000-3000 logs, depending on the length of logs.
In order to change the buffer size, you could go to the Network Analysis Profile, and right click on Full Analysis or the analysis profile you are currently using. Click Edit and go to the Log View.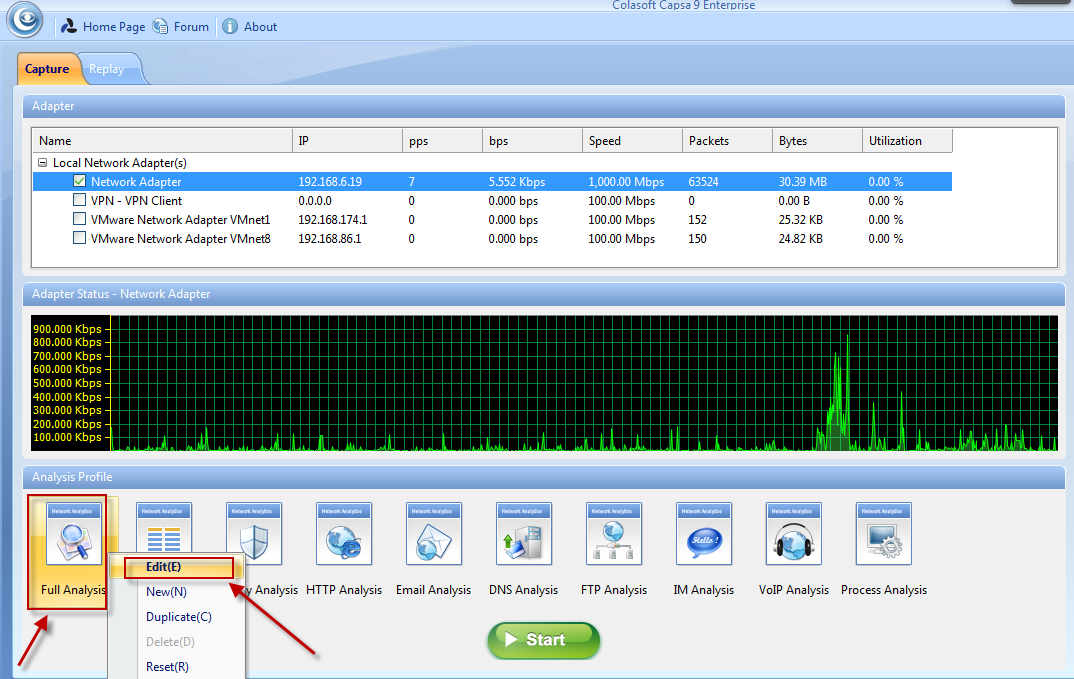 If you already started network analysis, you could click Log View button on the ribbon section to get into the Log View setting.

On the Log View, check the log type that you want to monitor. Also you can click on the size number, and you will be able to change the Log Buffer Size. Capsa allows you to set the Log Buffer Size to maximum 16 MB.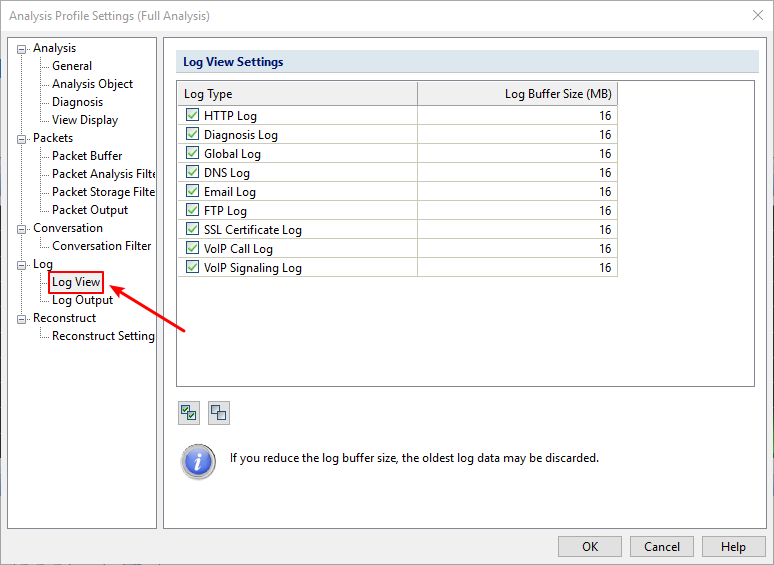 The Log View only displays logs in each log buffer. When there are too many logs that the log buffer cannot contain, you can use the Log Output feature, which helps you store all network logs.
Log Output
Colasoft Capsa also provides an ability to output the log files automatically. In order to do so, on the Analysis Profile Settings box, go to the Log Output tab, as the screenshot below: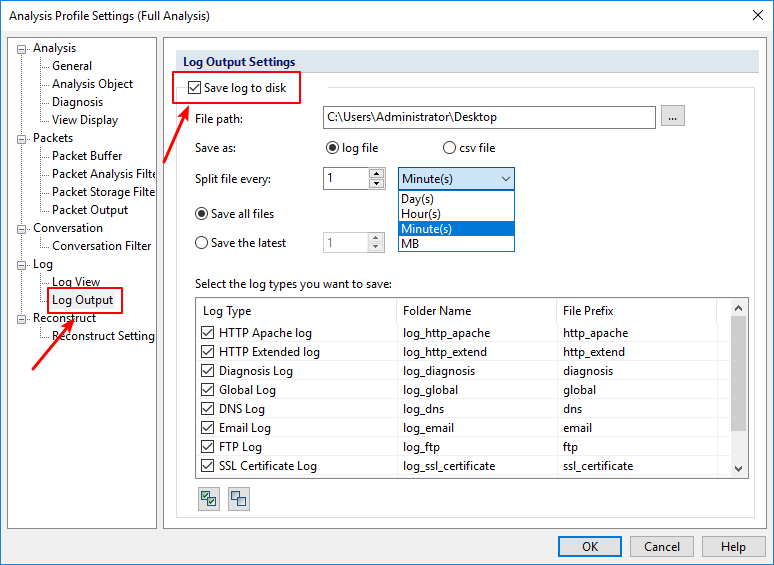 On the Log Output tab, check the option Save log to disk, input the file path, and set how to split the network log files. Also, you can check what kinds of log that you want to output.