Colasoft Ping Tool supports ping multiple IP addresses simultaneously and list the comparative responding times in a graphic chart, which makes it outstanding other ping tools. Our users can not only view historical charts by saving them to *.bmp files, but also ping the IP addresses of captured packets in network analyzer (e.g. Colasoft Capsa Network Analyzer) conveniently, including the resource IP addresses and destination IP addresses.
| | |
| --- | --- |
| File Size: 170 MB | Release Date: 06/21/2016 |
| Latest Version: 2.0 | Requirements: Windows 2000/XP/2003/Vista/7/8/10 |
Colasoft Ping Tool displays the operation and the statistic results of ping with three windows.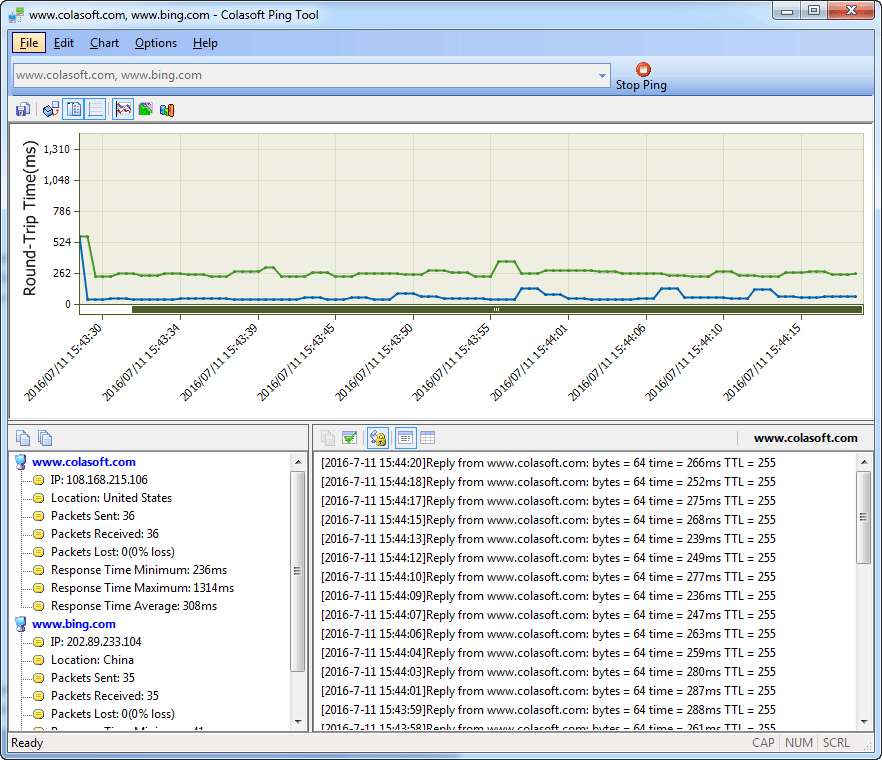 Graphic window

The Graphic window of Colasoft Ping Tool at the upper place is used to display the secular trend of ping time. It reveals every single ping command in a graphic way. The X axes indicate the real ping time while the Y axes indicate the ping response time.

Ping - Summary

The Ping Summary window provides basic information such as IP address, locations, packets received/sent/lost, as well as response time of all required IP addresses or domain names.

Ping - Details

The Ping Detail window displays all the detailed information of ping execution. The Ping Detail window will displays the corresponding ping results when selecting an IP address or domain name in the ping. Colasoft Ping Tool has two kinds of display types: classical and list. The classical display view is the same as the output of windows ping. The list display view is the display format of Colasoft, it lists TimeStamp(in second), Status, Bytes, Response Time and TTL.
Ping one address/domain
Colasoft Ping tool will highlight the specific node and node border upon it. An annotation will automatically popup which contains the domain name and response time. The response time in the annotation will be a range of time when the mouse cursor puts on the grid, while it will be a time if the mouse cursor puts on the grid line.
Ping multiple addresses/domains
Colasoft Ping tool allows pinging multiple IP addresses and domain names at one time without upper limit of the addresses' number. Enters IP addresses and domain name into the address pane, separate each other with a blank space, comma or semicolon, then clicks the Start Ping button to execute ping command.

Download Colasoft Ping Tool 2.0 Help