Colasoft Announces the Release of nChronos v5.3
Chengdu, China, October 24, 2017-Colasoft Co., Ltd, an innovative provider of network performance analysis and diagnostics solutions, today announced the release of nChronos v5.3. The new release not only provides NetFlow analysis, but also agent analysis, together with other new functionalities and improvements, nChronos makes network troubleshooting and analysis an easier task for IT management.
Colasoft NPMD (Network Performance Monitoring and Diagnostics) solutions are based on packet sniffing technology. nChronos now supports NetFlow Analysis to collect network traffic information, including summary statistics, network segments, applications, IP conversations, IP type of service information, etc. The same as packet-based network links, customization of network segments, applications, alarms and reports are still supported for NetFlow links, which help users monitor and analyze network anomalies more conveniently.
Besides, Agent Analysis which realizes cloud-based application performance monitoring and analysis is provided. nChronos now supports collecting network traffic from virtual environment and cloud platform. Users can install Agents in virtual environment and forwards the traffic of the virtual environment to nChronos Server for analysis. An Agent link is provided to make filter rules, define network segments, and customize applications and alarms.
Moreover, a Server Status page is provided in nChronos v5.3 which makes it easy for users to view the server status, including CPU, memory and storage usage.
"We continue to provide an increase in value with additional functionality without sacrificing our easy to use interface. With the addition of NetFlow analysis and Agent analysi, as well as the improved multi-segment analysis function, nChronos now automates the previously tedious process of troubleshooting distributed network issues, with greater efficiency and ease.", said Eddie Gao, CIO at Colasoft".
The evaluation version of nChronos 5.3 is available, click here for more information
Colasoft Announces Update to Capsa v10.0
July 26, 2017 – Colasoft, a leading provider of innovative and affordable network analysis solutions, today announced the release of Colasoft Capsa Network Analyzer v10.0 which comes with significant improvements of VoIP Analysis and TCP Conversation Analysis.
With the improvements of this new version, Capsa v10.0 supports SIP and H.323 protocols, which provides the ability to play back voice and video files and display VoIP call statistics. To show more detailed VoIP statistics, new VoIP charts, VoIP report modules, and VoIP diagnosis events are added to this new version.
TCP Conversation view adds a column Interaction Diagram, which displays the packets interaction status for each TCP conversation. With the new version, TCP flow analysis optimizes the algorism for TCP transactions and adds new metrics for TCP transactions, which facilitate the analysis of TCP transactions.
New Features:
An Interaction Diagram column and a Transport Layer Max ACK Time column are added for TCP Conversation view.
A Payload column is added for TCP Conversation view and Packet view.
Audio and video can be played for SIP VoIP calls based on following codecs: G.711/a, g.711/u, GSM, BV32, Speex, PCM, H.264 (unencrypted), H.263(unencrypted), Mp4v-es.
Audio and video can be played for H.323 VoIP calls based on following codecs: G.711/a, g.711/u, GSM, H.264(unencrypted), H.263 (unencrypted).
Improvements:
VoIP analysis is improved to support both SIP and H.323 protocol.
MAC address library and IP address library have been updated.
The calculation for TCP conversation metrics has been updated.
Average bps, average utilization, and average pps are added for traffic statistics.
Packet timestamp supports nanosecond, and some statistics are accurate to nanosecond.
A free trial of Capsa network analyzer v10.0 is available for download at http://www.colasoft.com/download/products/download_capsa.php
Colasoft Joins the Cisco Solution Partner Program
Colasoft, a leading provider of innovative and affordable network performance analysis and management solutions, announced today that it has joined the Cisco® Solution Partner Program as a Solution Partner. As a member of the Cisco Solution Partner Program, Colasoft is able to quickly create and deploy solutions in NPMD industry.
Colasoft nChronos, a retrospective network performance analysis system, is compatible with Cisco Switches and will collect network packets via the SPAN function of Cisco switches.
The Cisco Solution Partner Program, part of the Cisco Partner Ecosystem, unites Cisco with third-party independent hardware and software vendors to deliver integrated solutions to joint customers. As a Solution Partner, Colasoft will deliver a complementary network performance analysis solution to collaborate with Cisco to meet the needs of customers in NPMD industry.
Colasoft Exhibited at eGISEC FAIR 2017
March, 2017 – Colasoft, a leading provider of innovative and affordable network performance analysis and management solutions, exhibited at eGISEC FAIR 2017 from March 15 to March 17 in Seoul, South Korea.
As the first time participating in the eGISEC FAIR, Colasoft showcased the network performance analysis solution (Colasoft nChronos) and Unified Performance Management Solution (Colasoft UPM) to display the customized network and application performance management solutions.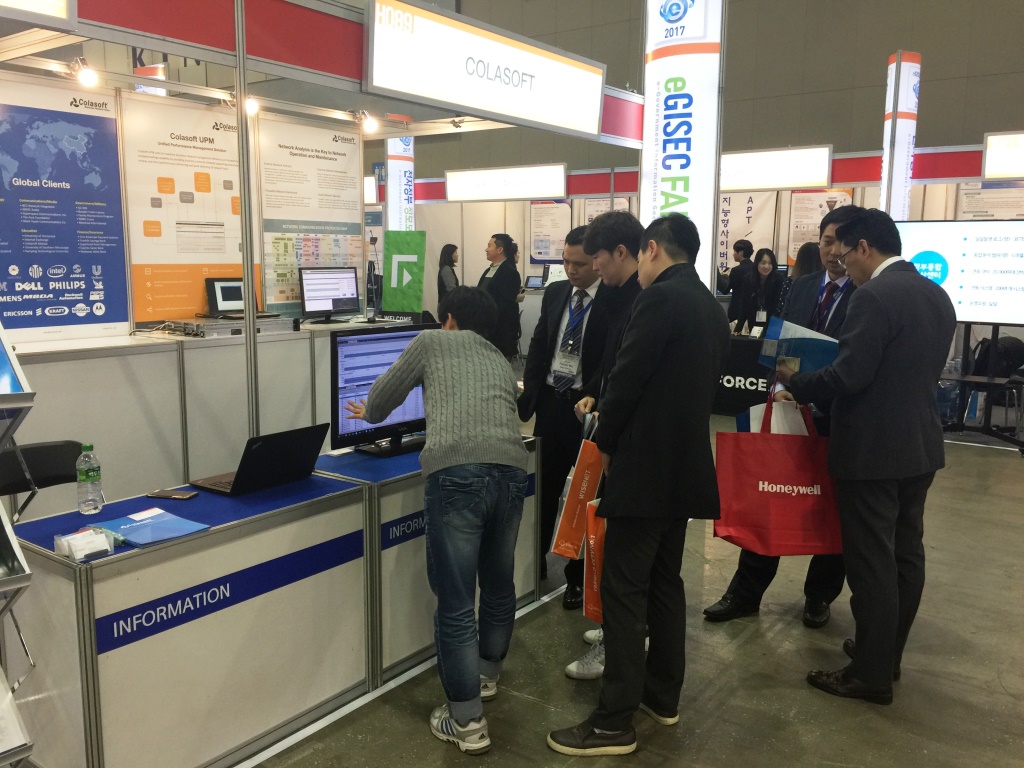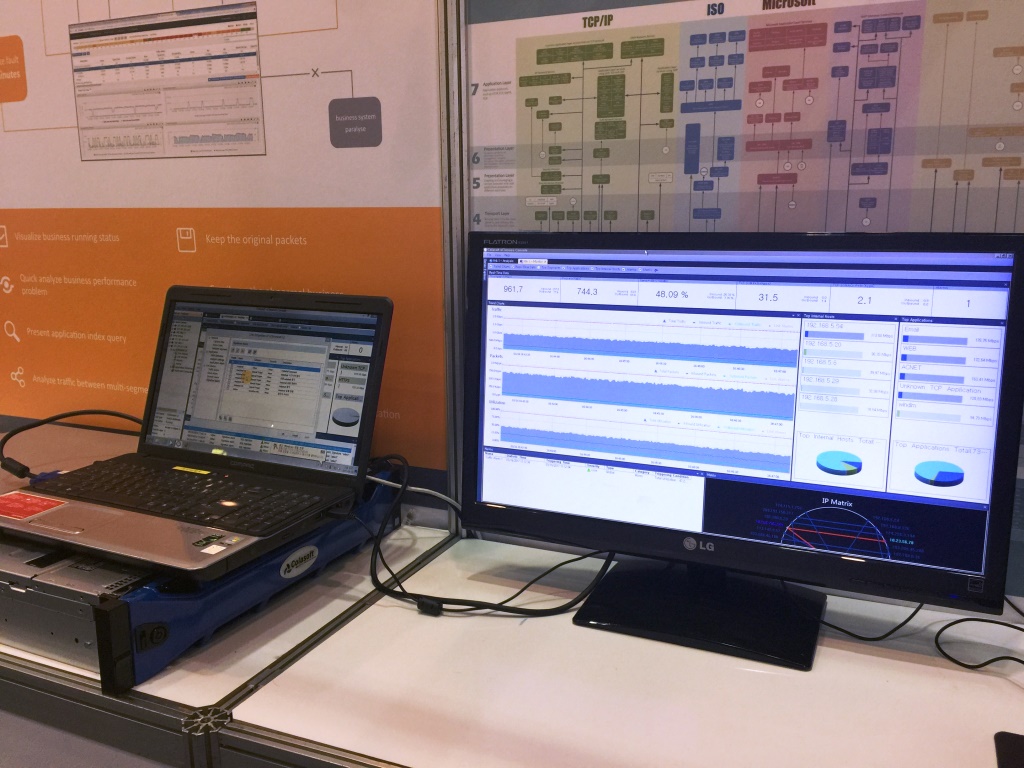 Colasoft nChronos, integrating real-time surveillance with back-in-time analysis, is an enterprise-class network monitoring and performance analysis solution. Designed for 24x7 network packets capturing, analysis and storage, dedicated to the sustainable, efficient and safe running of networks, Colasoft nChronos provides a reliable data basis for determining constructive suggestions for enterprise profit growth.
Colasoft UPM is a business-oriented unified performance management solution. It is capable of monitoring service quality of all respects of a business network and quickly detecting and pinpointing problems affecting performance and stability of key business.
This is the first time for Colasoft to participate in the eGISEC FAIR and visitors spoke highly of the products which Colasoft showcased.
About eGISEC FAIR
eGISEC FAIR is the largest security exhibition in South Korea. It is hosted by the Ministry of Safety and Public Administration, and more than 30,000 people concerned from public organization and security business circles view this exhibition every year.
Colasoft Announces Release of Capsa Network Analyzer v9.2
January 19, 2017 – Colasoft, a leading provider of innovative and affordable network analysis solutions, today announced the availability of Colasoft Capsa Network Analyzer v9.2, a real-time portable network analyzer for wired and wireless network monitoring, bandwidth analysis, and protocol decoding.
Application analysis counts a lot in securing enterprise network. Capsa v9.2 brings an application analysis function. More than 1,800 built-in applications are provided, including the popular applications as Amazon, Email, Facebook, Google, Web, Youtube, etc. Besides the built-in applications, users can customize applications for private network services. Custom applications can be defined based on IP address, port number, protocol, packet pattern, and combinations thereof. With application analysis function, network administrators will have a better understanding and control of network traffic, which makes network monitoring and troubleshooting easier.
HTTPS is a protocol for secure communication over network, which is widely used on the Internet. With this safer protocol, it becomes more complicated to analyze the traffic today. And considering this circumstance, Capsa v9.2 adds HTTPS decryption capability to enable users to decrypt the HTTPS message with the right configuration of key file.
Moreover, Capsa v9.2 adds more than 200 new protocols, which enhance protocol recognition capability. And users could select a certain medium type to capture or replay the packets. Also, a Dup ACK mark and a Retransmission mark are added to the packet decoding window to facilitate protocol decoding.
"Colasoft R&D department involves optimizing Capsa to satisfy users' needs of network analysis." said Eddie Gao, CTO at Colasoft, "Also, we add new features to Capsa v9.2 to meet with the increasingly complex network environment, in order to provide a functional tool for our users."
A free trial of Capsa network analyzer v9.2 is available for download at http://www.colasoft.com/download/products/download_capsa.php