Capsa is a portable network analyzer application for both LANs and WLANs which performs real-time packet capturing capability, 24x7 network monitoring, advanced protocol analysis, in-depth packet decoding, and automatic expert diagnosis. Capsa's comprehensive high-level window view of entire network, gives quick insight to network administrators or network engineers allowing them to rapidly pinpoint and resolve application problems. With the most user-friendly interface and the most powerful data packet capture and analysis engine in the industry, Capsa is a necessary tool for network monitoring.
Capsa Enterprise
Capsa Enterprise, a flagship product of Colasoft, is designed for small business as well as enterprise users. Capsa performs network monitoring, troubleshooting and analysis for both wired & wireless networks including 802.11a/b/g/n. Whether you're a veteran with years of experience or new to network monitoring, if your requirements are to identify, diagnose, and solve network problems quickly, or monitoring user activity on your network, or you just need to ensure that the corporation's communications assets are safe, Capsa Enterprise is a must have network management tool.
Key Features of Capsa Enterprise:
Real-time Packet Capture
Real-time packet capture as well as the ability to save data transmitted over local networks, including wired network and wireless network like 802.11a/b/g/n;
Advanced Protocol Analysis
Identify and analyze 1040 protocols and sub-protocols, including VoIP, as well as network applications based on the protocol analysis;
User-friendly Dashboard
Easy to use Overview Dashboard allows you to view network statistics at a single glance, allowing for quick interpretation of network utilization data;
Multiple Network Behavior Monitoring
Internet e-mail and instant messaging traffic can be monitored and stored, helping identify security and confidential data handling violations;
Quickly Pinpointing Network Problems
Suspicious hosts can be detected and diagnosed enabling you to pinpoint network problems in seconds;
Extensive Statistics of Each Host
Map the traffic, IP address, and MAC of each host on the network, allowing for easy identification of each host and the traffic that passes through each.
Capsa Enterprise is the most robust packet sniffer and packet analysis application available. Capsa's Overview Dashboard and drill down functionality make it easy enough for a SOHO Network Manager but powerful enough for a Distributed Enterprise Network Engineer.
Key Feature
Capsa Enterprise
Capsa Professional
Capsa Free
Price
$995
$695
Free
Trial Download
Free Trial
Free Trial
Download
Monitors WiFi Connections
No
No
IP Addresses Monitored
Unlimited
Unlimited
10
Session Timeout Length
Unlimited
Unlimited
4 hours
Adapter Monitors
Manually Save Files
Online Auto-update
No
Run Multiple Projects
No
Support Multiple Adapters
No
Support Network TAP
No
Printing
No
Export Data
No
Log Output Function
No
Fast Speed Packet Replay
No
Process View
No
Application View
No
TCP Port Scan View
No
No
VoIP View
No
No
Reports
No
No
Diagnosis Function
No
No
Security Analysis Profile
No
No
Custom Reports
No
No
Packet Auto-output Function
No
No
Auto-Scheduling
No
No
ARP Attack View
No
No
Worm View
No
No
DoS Attacking View
No
No
DoS Attacked View
No
No
Suspicious Conversation View
No
No
Trial Download
Free Trial
Free Trial
Download
Price
$995
$695
Free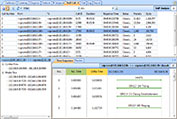 Capsa provides a VoIP analysis module to capture and analyze VoIP calls and graphically display VoIP analysis results, which helps IT staff baseline and troubleshoot VoIP-based networks.
Learn more >>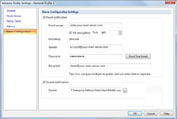 Capsa will now send an email to your email box, and/or play sound, when an alarm is triggered. When you are out of office, this function will make sure you are timely notified when there is something going wrong on your network.
Learn more >>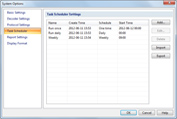 Task scheduler provides the ability to run packet capture and analysis at pre-defined time automatically, which can be scheduled to run one time, daily or weekly.
Learn more >>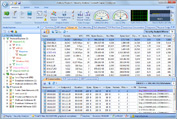 TCP packets reveal useful information to help us troubleshoot slow network, especially for the cases like slow website response, slow CRM transactions and slow downloading or uploading, etc.
Learn more >>
More features >
Software Systems
OS:
Windows Server 2008, 64bit Edition
Windows Vista, 64bit Edition
Windows 7, 64bit Edition
Windows 8, 64bit Edition
Windows 10, 64bit Edition
Relied Browser:
Internet Explorer 6.0 or higher
Hardware Requirements
Minimum Requirements:
CPU: P4 2.8 GHz
RAM: 4GB
Internet Explorer 6.0
Recommended System:
CPU: Intel Core Duo 3.2GHz
RAM: 8GB or more
Internet Explorer 8.0 or higher
Supported Network
Ethernet

Capsa will run with a NDIS 3 or higher compatible Ethernet, Fast Ethernet, or Gigabit promiscuous mode network adapter. Promiscuous mode is the ability to have Capsa take over the driver and put it into a mode that will allow it to passively capture all packets on an Ethernet wire, regardless of the address to which they are being sent/received.

Wireless

Colasoft has tested adapters based on Atheros, Ralink, Marvell and Intel chipsets. Other wireless cards may work with this version to the same degree that they worked in prior versions.

Recommended wireless network adapters:

Atheros AR7015, AR6004, AR9380, AR9382, AR9390, AR9485, AR9462, AR958x Intel 1000, 4965, 5100, 5150, 5300, 5350, 6200, 6250, 6300, 6350, AC 7260, 82579LM Realtek RTL8188CU, RTL8192CU, RTL8187

Broadcom 4313GN, 80211bgn

TP-Link TL-WDN3200(5.1.7.5014), TL-822N v2

D-Link DWA-160 B2(5.1.7.5014)