Colasoft nChronos is a revolutionary solution for retrospective network analysis from Colasoft.
nChronos supports both local and remote data capture, real time and post capture analysis simultaneously, making it the perfect solution for distributed network analysis in medium to large enterprises.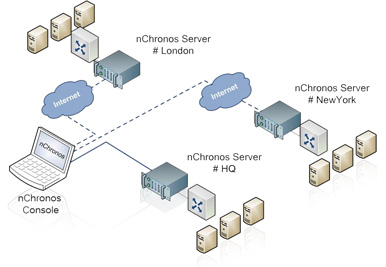 With rapid growth and evolution of enterprises and their networks, it is common to have branch offices in other cities or even countries demanding core business to increasingly rely on Internal (LAN) Networks linked by the Internet (WAN). There are more infrastructure components with more user and administration applications running on our network simultaneously, and it is proving increasingly difficult to deal with network issues in traditional (manual investigation) ways. The cost to dispatch expert network engineers to remote sites for the diagnosing and repairing of network issues has become prohibitive with the travel costs being just one part of the loss of profit for most orginizations. A much better and efficient manner for dealing with these type of problems would be to keep the analysis and expertise centralized and use systems to gather and assist diagnosis for remote action to be taken.
Now is the time for distributed network analysis - a solution which enables you to monitor, analyze, and troubleshoot networks remotely.
nChronos supports local and remote data capture and analysis, with the data and statistics captured and stored by nChronos - allowing you to rewind historical events simply by selecting the timeline you want.
nChronos is a retrospective and distributed network analysis solution (no specific network monitoring hardware required - just a spare NIC in the server). nChronos can be deployed flexibly, just install it on the servers of your branch offices, and you can monitor and troubleshoot the whole network in minutes remotely.
Business Benefits
Provides the all in one solution for network monitoring, network security and network forensics (real-time data capture and analysis as well as post-capture retrospective analysis).
Distributed installation, centralized and simple management, flexible, no additional cost required (easy to implement).
Improve the efficiency of your network and employees dramatically, improving overall productivity (not just the IT dept.!).