New to Capsa Network Analyzer Step by Step
1
What is a Network Analyzer?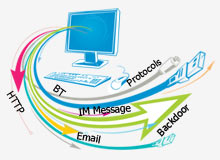 Capsa Network Analyzer can be used to:
Display the binary data in packets to human-readable format
Troubleshoot problems on the network
Analyze the performance of a network to discover bottlenecks
Capture network traffic for forensics and evidence
Detect worm, virus and network attacks
Debug network programs in the development stage

2
Where should I deploy Capsa?
3
Start your first capture right away
4
Get to know the main user interface
5
What is Network Profile?
6
What is Analysis Profile?
7
How to use and create a Filter?
8
How to save packets to disk?
9
How to replay a packet file?
Copyright © 2001 - 2013 Colasoft LLC. All rights reserved.
Colasoft, Capsa, nChronos and Colasoft logos are registered trademarks of Colasoft. Sniffer is a registered trademark of Network General Corporation. All other names are trademarks or registered trademarks of their respective owners.